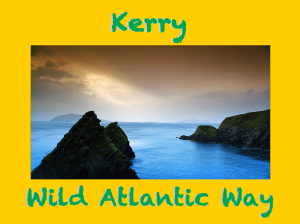 The world renowned Lonely Planet travel guide ranks Ireland #5 on its 'Best in Travel ' list.
Welcome to the County Kerry Ireland Wild Atlantic Way Tour for community and fraternal organization groups, trade association groups, travel groups, college alumni groups, and other groups whose members have always had a strong desire to vacation in Ireland.
We invite you, your family, and friends to join us on this once in a lifetime journey, visiting Kerry on Ireland's Wild Atlantic Way, a beautiful, scenic, and historic part of Ireland. Enjoy the warmth and "Cead Mile Failte" (100,000 Welcomes) that Kerry people are renown for throughout the world, and nowhere more so than in their native Ireland. A very big Failte (welcome) awaits you on this wonderful week in the "Emerald Isle".